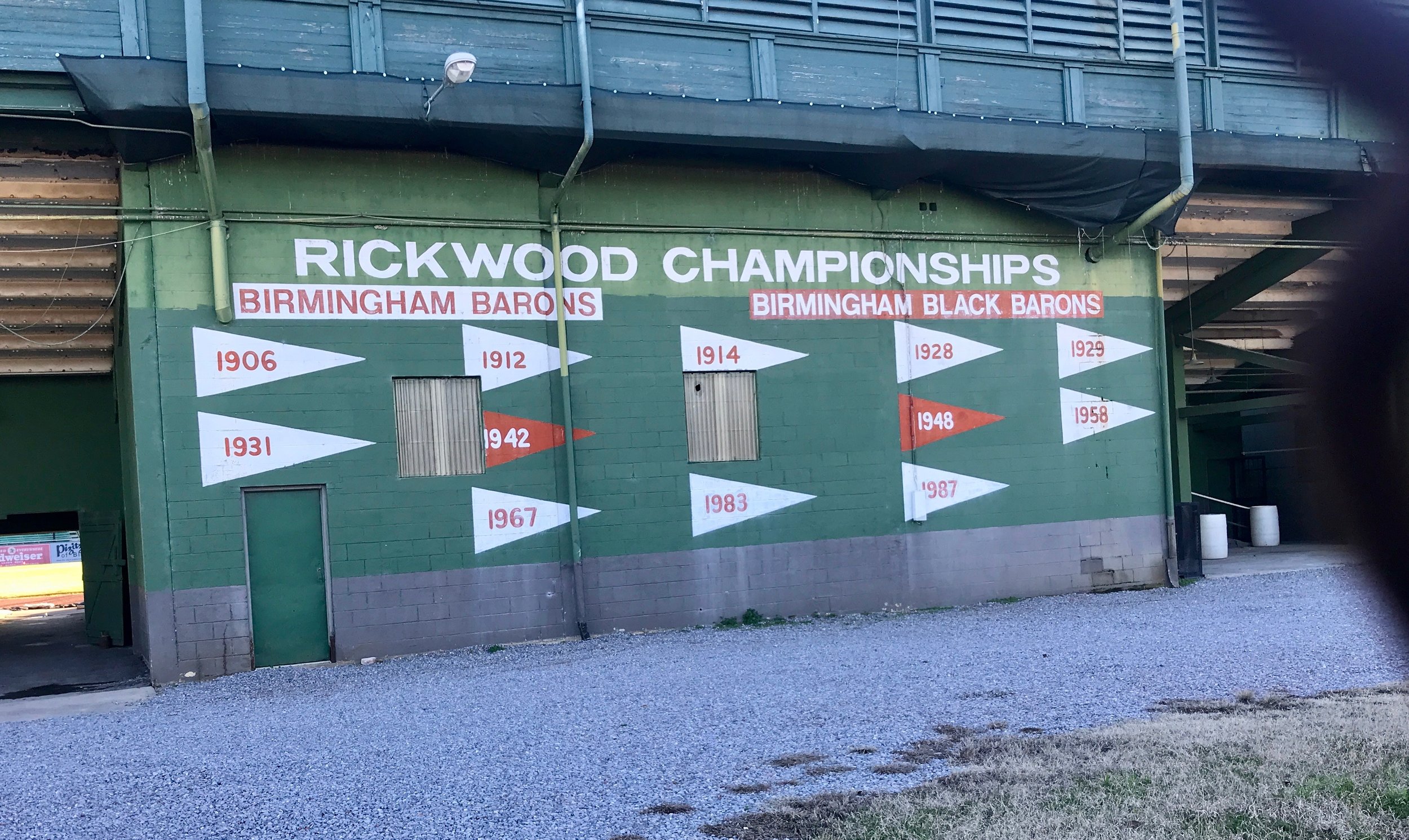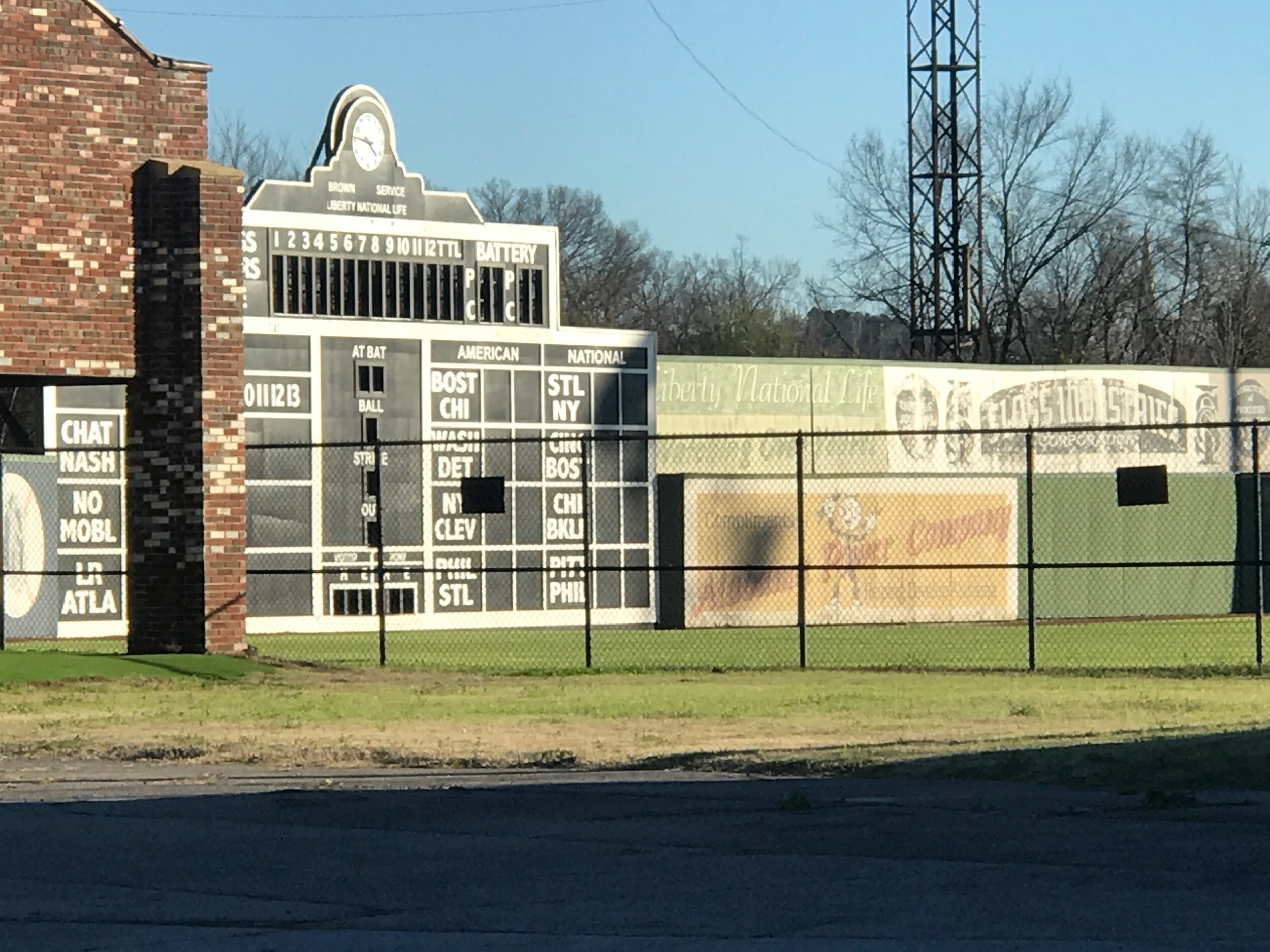 A few more thoughts and photos from Alabama before I move on to Florida:
Towering over Birmingham is a huge cast-iron statue of Vulcan, the god of metalwork, first created to publicize Birmingham at the 1904 World Exposition in St. Louis. Vulcan was ugly and deformed, according to the myth the sculptor was working from, so the statue has a homely face and truncated legs.
Plastic multi-colored Vulcans now decorate downtown Birmingham, and you can get stuffed fuzzy Vulcans at gift shops. It is, from my brief experience, the only adorable thing about Birmingham.
Birmingham was founded in 1871 by a bunch of developers who saw opportunity in the nearby deposits of coal, iron ore and limestone – the key ingredients in making steel – and the railroads that served the area. They set out to build the new Pittsburgh, only with cheaper, non-union labor, and they succeeded. They also created what Martin Luther King Jr. called "the most segregated city in America. The easy access to dynamite led to a lot of church bombings when King and local civil rights leader Fred Shuttlesworth tried to do something about it.
Those dark days are remembered at a park and civil rights institute across from the Sixteenth Avenue Baptist Church, where four girls died one Sunday morning from the Klan's dynamite. The local airport is now called the Birmingham-Shuttlesworth Airport, so there's that.
Birmingham also has Rickwood Field, built in 1910, the longtime home of the Birmingham Barons and the Birmingham Black Barons. Among the greats who played at Rickwood, either in regular games or on barnstorming tours in the off-season: Satchel Paige, Babe Ruth, Josh Gibson, Ted Williams, Cool Papa Bell, Ty Cobb, Reggie Jackson and a 16-year-old rookie from Birmingham named Willie Mays.
The Black Barons played there until 1963, when the Negro League folded, and the Barons until 1987, when a new ballpark was built closer to downtown. Rickwood is still there, but showing its age.
Speaking of sports, Alabama lays claim to many all-stars, including Jesse Owens, Hank Aaron, Joe Namath, Bear Bryant, Charles Barkley, Evander Holyfield, John Hannah and Bo Jackson.
Alabama also can clam some all-star musicians, including Hank Williams, Dinah Washington, W.C. Handy, Emmylou Harris, Alabama Shakes, Alabama, the Blind Boys of Alabama, Lionel Ritchie, Clarence Carter, Wilson Pickett, Sun Ra, Big Mama Thornton and Lionel Hampton.
Finally, some quotes from famous Alabamians, embedded in walkway to Riverfront Park:
Darkness cannot drive out darkness; only light can do that. Hate cannot drive out hate; only love can do that.
- Martin Luther King Jr.
To invent, you need a good imagination and a pile of junk.
- Thomas Edison
I would rather walk with a friend in the dark than alone in the light.
- Helen Keller
Life is like a trumpet. If you don't put anything into it, you don't get anything out.
- W.C. Handy
Each person must live their life as a model for others.
- Rosa Parks
Sometimes that light at the end of the tunnel is a train.
- Charles Barkley
We may have all come on different ships, but we're in the same boat now.
- Martin Luther King Jr.
It's not the will to win, but the will to prepare to win that makes the difference.
- Paul "Bear" Bryant